Ürünler
Türkçe
English
Platan, digitex markalı Toplu Uyarı Sistemleri ve Platan markalı PBX Sistemlerinin lider üreticisidir. Tasarım ofislerimizde, nitelikli telekomünikasyon ve elektronik uzmanlarımız, en yeni teknolojileri ve eğilimleri temel alan çözümler üretmektedir. Tüm ürünlerimiz piyasa ihtiyaç ve beklentilerini karşılamak için özel olarak hazırlanmıştır.
Yüksek kaliteli DSE Elektronik Sirenler, radyo ve telekomünikasyon çözümleri sunmaktayız. Ürünlerimiz Sivil Savunma, Yangın Hizmetleri, Acil Ambulans Hizmetleri, diğer kurtarma hizmetleri ile kamu kurumları ve ticaret sektörü tarafından yaygın olarak kullanılmaktadır.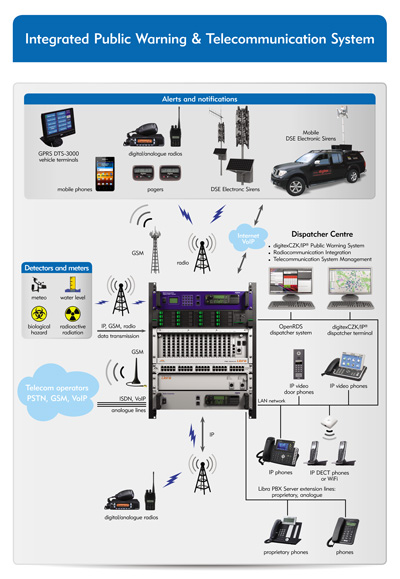 Public Warning Systems
The digitexCZK/IP system was created using the most up-to-date technologies, according to the PLATAN construction team's original design. This is the only warning system in Poland which uses not only analogue, but also digital radio communication in the DMR (TDMA) and NXDN (FDMA) standards, as well as local area and wide area networks (LAN, WAN) and encoded IP for data transmission.
Electronic Sirens
DSE Electronic Sirens are manufactured by PLATAN (under the digitex brand name) for the purpose of public warning and alerting (e.g. ecological, military, terrorist attacks, catastrophes and other hazards).
Telecommunication Systems
Platan is the leading Central-European producer of IP PBX and telecommunication servers. Thanks to our comprehensive offer, we are capable of satisfying the most sophisticated requirements of a wide range of customers, from small and medium-sized companies to large enterprises, public offices and institutions, as well as rescue and uniformed services.